Press > PRIMITIVE OVERFLOW IS SIGNED TO PROGROCK RECORDS AND RELEASES THE ALBUM "HONOR WAY DOWN"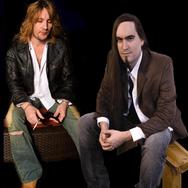 29 Aug 2012
Springville, UT – 28 April 2012 – Primitive Overflow presents an exciting new progressive rock album featuring Donnie Vie, singer/songwriter of the 80s MTV era band Enuff Z' Nuff. "Honor Way Down" features progressive cuts with power pop hooks that both sound current and evoke the early progressive scene, when rock & roll was a very spiritual matter.
Primitive Overflow is the brainchild of Hoyt Binder, a Los Angeles based guitarist/songwriter with a passion for deep music. Inspired by "The Creative," he creates music for the sake of music. With influences ranging from 20th Century composers to jazz, rock, metal, funk, pop and folk, he aspired to write an album with no boundaries. Everything melds into the progressive melting pot that is Primitive Overflow. The end result is a unique sound, integrating progressive rock with catchy pop vocals, dripping with melody.
This album's progressive shoes were fulfilled by the powerhouse of Paulo Gustavo on bass and Chris Quirarte (Redemption) on drums with the brilliant Ronald Van Deurzen on keyboards. Even in the most complex passages, the band manages to keep a rough, organic vibe that keeps the music true to its rock roots. All virtuosos in their own right, the band raised the bar, highlighting the need for a high profile singer to make this album come to life.
"Honor Way Down" is the ProgRock Records debut release from Primitive Overflow and can be found at http://www.therecordlabel.net/progressive-rock/primitive-overflow/ . The album is available for immediate pre-sale at a $2 discount until shipping begins in mid-September when it will be available in stores.
Tweet