Press > Factory of Dreams release "Some Kind of Poetic Destruction"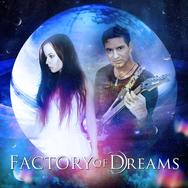 26 Feb 2013
'Some Kind of Poetic Destruction' is Factory of Dreams 4th album. A conceptual scifi album that follows the adventures of Kyra, a unique and mysterious character who holds the key to our fate.
Something is closin-in on the Earth. What is it? What is its purpose? What will happen to Earth? Discover this amazing storyline, full of surprises and mysteries, as we follow Kyra on an epic journey to find her purpose, faith and destiny throughout nearly 70 minutes of music.
This new album explores even further the sound of the previous album Melotronical, pushing it beyond the boundaries of the Electronic Progressive Metal genre. Expect poignant melodies, heavy passages balanced by atmospheric parts, rhythmical changes and instrumental sections that are sure to delight all who appreciate the genre.
Track highlights are the explosive Neutron Star, the epic Join Us into Sound, the powerful Dark Season featuring Magali Luyten, the beautiful Seashore Dreams (cd includes the full version of this track ~7 min) and Angel Tears featuring great interaction and duets between Jessica and Raquel Schüler.
Hugo Flores also decided to remake an older song called Playing the Universe, now revamped by Jessica's vocals, that perfectly fits the storyline.
Check out the audio samples and pre-order for a $2 discount here.
Tweet