Press > DIMENSION ACT IS SIGNED TO PROGROCK RECORDS AND RELEASE "MANIFESTATION OF PROGRESS"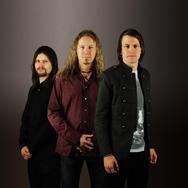 30 Jan 2012
Rancho Santa Margarita, CA – 1 February 2012 –Drawing inspiration from bands such as Dream Theater, Evergrey, Pagan's Mind and Ayreon, the sonic appearance of Manifestation of Progress will surely appeal to fans of both progressive and melodic metal. Nevertheless, the solid portion of double bass drumming and huge sounding vocal parts should even leave the power metal fans satisfied. Having said that, the album displays subtle, dynamic qualities, with calm pianos and jazzy guitar parts. In other words, Manifestation of Progress moves in landscapes that could and should be enjoyed by every fan of progressive music.
With Progrock Records, the band has found their perfect partner in crime. "Just like Dimension Act", Marius Nilsen, the band's co- founder and driving force, explains, "Shawn Gordon and Progrock Records are all about the music and the endless dedication and admiration of the progressive rock and metal genre. Our newfound home at Progrock Records brings a great sense of both achievement and fulfillment, and we are confident that Dimension Act and Progrock Records together can build the foundation needed for a long and prosperous career. Sharing label with Frameshift, who is responsible for one of the greatest debut prog albums the last 10 years is also quite a bonus, to say the least. And what about those Roswell Six albums? Home sweet home!".
"One of the things I like best about having a record label is discovering new bands and music. Dimension Act scratches that itch I've had for some heavy material with just whispers of Dream Theater with high level of musicianship with great melodies. I think you're going to love this.", said Shawn Gordon, President of ProgRock Records.

"Manifestation of Progress" is the first release from Dimension Act and is available for immediate ordering at a $2 discount till early-February 2012 and will be shipped in mid-February. It will be available at retail and digital March 7, 2012. Audio samples, information and ordering can be found at http://www.therecordlabel.net/progressive-rock/dimension-act/manifestation-of-progress/
Tweet