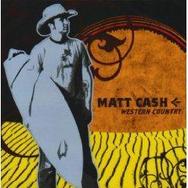 Buy
Price:
$3.95
Reviews
Despite Western Country's title, it's easy to the hear rock influences, as "Match" lights...

Read all
Taking a break from all the progressive, pop and metal that Matt has been doing the last few years with cohort Henning Pauly, Matt decided to do a "modern" country album, of course working with Henning once again. The idea was to take a slightly different approach to the Country genre but keep the songs filled with hook laden melodies. There are some
surprise guests on this release that is sure to catch the attention of the Country music world. Available through MVD Distribution.
Album tracks
1 - Match
2 - Shotgun
3 - I Ain't As Country
4 - A Song for Him
5 - Four State Lines
6 - Red Rover
7 - Come Back Love
8 - Run Away
9 - Melody
10 - Vegas
11 - Northern Lights
12 - I'll Be Home
13 - Shine On
14 - You Won't Lie
Album samples