Sylvan > Artificial Paradise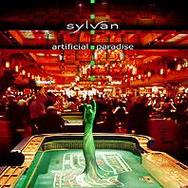 Reviews
...All in all this album is a near masterpiece and one of my favourites of 2002, proving that...

Here's some wonderful German neo-prog with some very modern musical arrangements as opposed to the...

...Stylistically this album reminded me of RPWL's effort Trying To Kiss The Sun, except that this...

...This release marks the arrival of Sylvan. Their sound is polished and focused, the song-writing...

Read all
Released October 7th 2002, "Artificial Paradise" deals with topics such as deceitfulness, superficiality and the ups and downs of life and the human nature. According to this range of topics, the extraordinary artwork of the CD cover is based on a casino-type image, resembling deceitfulness and temptation at the same time.
Album tracks
1 - 01. Deep Inside
2 - 02. That's why it hurts
3 - 03. Strange Emotions
4 - 04. Human Apologies
5 - 05. Timeless Traces
6 - 06. Still Believe
7 - 07. Around the World
8 - 08. Souviners
9 - 09. Artificial Paradise
Album samples