Roswell Six > Terra Incognita: Beyond The Horizon (CD)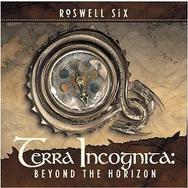 Buy
Price:
$15.95
Reviews
...The author was drawn into a music rendition of his story and supplied all lyrics while a coterie...

German review...

...On the other end of the spectrum, Michael Sadler offers performances that are simply stunning in...

Interview with Kevin...

Read all
This is the ground breaking music portion of the book and CD project. Here you have a music CD whose story and lyrics were written by bestselling author Kevin J. Anderson with his author wife Rebecca Moesta. Employing the musical and keyboard talents of Erik Norlander to compose the tracks and a variety of very high profile guests to perform, this CD provides a unique experience, tying directly in to the book and providing original prose from Kevin and a different perspective on the story that can also be enjoyed stand alone.

The players on the CD are:

Erik Norlander (ROCKET SCIENTISTS, LANA LANE, SOLO)
James LaBrie (DREAM THEATER, FRAMESHIFT)
Michael Sadler (ex-SAGA)
John Payne (ex-ASIA)
Lana Lane
Kurt Barabas (UNDER THE SUN, AMARAN'S PLIGHT)
David Ragsdale (KANSAS)
Martin Orford (ex-IQ, ex-Jadis)
Gary Wehrkamp (SHADOW GALLERY, AMARAN'S PLIGHT)
Chris Brown (GHOST CIRCUS)
Chris Quirarte (PRYMARY)
Mike Alvarez

To hear full versions of songs, please visti the MySpace page.
Album tracks
0 - I Am The Point (full version) - Free Download
1 - 01. Ishalem
2 - 02. The Call of The Sea
3 - 03. I Am The Point
4 - 04. Letters In A Bottle
5 - 05. Halfway
6 - 06. Anchored
7 - 07. Here Be Monsters
8 - 08. The Sinking of The Luminara
9 - 09. The Winds of War
10 - 10. Swept Away
11 - 11. Beyond The Horizon
12 - 12. Merciful Tides
13 - 13. The Edge of The World
Album samples