Presto Ballet > Love What You've Done To The Place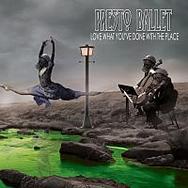 We have tried a few new things on this record, which I hope opens even more doors for us creatively. The first couple of tracks are standard Presto Ballet fare, as "pompous" as possible. Then we have a couple of excursions down a few new musical paths, and then into what I like to call a straight forward rock song, but I think we retain that Presto bombast that we love so much. "The Faith Healer" cover was just something that I have wanted to do for many many years. I have always loved The Sensational Alex Harvey Band, and I thought it would be a good tribute to a great band. I hope you all enjoy listening to it as much as we enjoyed making it.
One last thing… as I'm sure most of you have figured out, the title and cover art of the record are basically a comment on the current ecological condition of the world.
Album tracks
1 - King Of The Stars
2 - The Clock
3 - A Distant Heart
4 - Deep Dark Blue
5 - Looking Glass
6 - The Faith Healer
Album samples