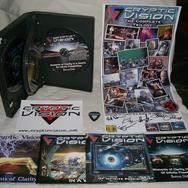 In 2003, Rick Duncan envisioned creating an epic and spiritual musical journey based on the work of his greatest progressive rock influences. Aligning himself with long-time musical collaborator and proven rock vocalist Todd Plant, they set out together to create musical magic on an unknown journey.

The first offering of what was planned to be a three part complete and continuous progressive musical symphony was 2003's "Moments Of Clarity". After "Moments Of Clarity" was released and garnered much positive attention, it became clear that the journey was just beginning. The live band was created enlisting the talents of Sam Conable, John Zahner, Howard Helm, and Timothy Keese. The band performed several high intensity and epic live performances in between their work in the studio, and a strong working nucleus was formed making the vision even more real and clear.

In 2006, the band released "In A World" to critical acclaim. After a hiatus due to illness and scheduling difficulties, the band completed the final installment of the trilogy, "Of Infinite Possibilities" and released the final piece in May, 2012.

All songs flow together both thematically, musically, and are in key, creating one continuous musical statement reflecting a positive spiritual view and questions where we as humans come from and where we are going... Moments of clarity in a world of infinite possibilities!

Now together for the first time in one complete box set, you can experience this epic and colorful journey from beginning to end, the way it was mean to be enjoyed. Also included is a full-length bonus disc featuring unreleased Cryptic Vision tracks both from the studio and live shows.

Click here for samples and reviews from "Of Infinite Possibilities" and here for samples from the bonus disk.