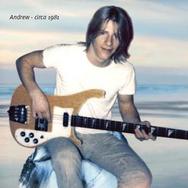 Andrew Dean Gorczyca was born on August 14, 1963. He was raised along with several siblings near Washington, DC, in the comfortable suburbs of Maryland. The family had a somewhat normal middle-class upbringing, typical of the era. Music entered his life at an early age, most likely through the influence of an older sister, distant cousins, and friends in the neighborhood. On one Christmas, his parents gave their three boys their first chance to play music. Andrew chose to learn the guitar, and never lost his fascination with it.

He discovered a sense of versatility by shifting his focus to electric bass, and it was here that Andrew and his younger brother Chris began playing together as bassist and drummer. Their teenage brotherly rhythm section quickly gained momentum as a solid playing unit in their circle of musician friends. By age twenty, Andrew had devoted himself to creating his own compositions, playing and recording most or all of the parts into his trusty four track machine. Drawing on his love of progressive rock, he crafted songs and lyrics that were challenging, emotional, and honest. He continued to write and record as life moved forward, never concerning himself with trends or music industry distractions. His most prolific period was during the 1980s into the 1990s, though his ideas continued to emerge thereafter.

Andrew passed away during the night in early August 2004, at only forty years of age. As an artist above all else, his music was his one true passion in life. Because he was a very private person, he didn't promote himself or his art in the conventional ways of marketing. However, by recording his music with modest means, he did manage to leave behind a form of expression that can be shared with others over time. This is his legacy.
Artist website