41POINT9 > Still Looking For Answers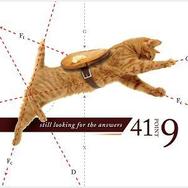 Buy
Price:
$15.95
Reviews
41Point9 has made itself a fine debut album, sporting excellent performances throughout on a CD...

But whether inspired by Douglas Adams' pursuit of perfection, the glossy production of Level 42...

Everything about this album screams experience, professionalism, dedication and nonetheless extreme...

This album takes you on an emotional journey beginning with "The Bullets in The Barrel" a dark...

Read all
41POINT9 falls somewhere on the pop side of the prog world and features performances by Nick D'Virgilio of Spock's Beard, Dave Weckl of Chick Corea fame, Brian Cline, original singer/bassist with Enchant along with Bob Madsen, recording bassist/engineer/producer for Enchant and Xen and this new guy named Kenny Steel. With a tip of the hat to bands like Marillion, Enchant, Spocks Beard, Porcupine Tree, Midge Ure and Level 42, the songs exhibit high levels of musicianship, but more importantly, tell stories and take the listener on a journey. There's lots of harmonies, interesting rhythms, poignant and insightful lyrics, and nary a prog cliché to be found. Go ahead, dip a toe, the water is fine, come on in for a swim…. I dare ya…..

Promotional videos:




Album tracks
1 - 01 - The Bullet's In The Barrell
2 - 02 - Living In Hard Times
3 - 03 - Building Blocks
4 - 04 - The Feather
5 - 05 - One In A Bar
6 - 06 - Surface Tension
8 - 08 - Still Looking For The Answers
Album samples